Many tools come in handy for WordPress users. There are sales funnels, CartFlows, and many other useful plugins. However, perhaps one of the best features you can add is a countdown, which you'd be surprised how many situations it can help you and your customers.
Adding a countdown to your WordPress page or blog can be difficult. It takes learning coding and some other technical aspects of web management. Luckily, there are options to help. Countdown plugins exist, allowing you to design any countdown you could need.
As with all plugins, not ever countdown WordPress plugins will be great. This is because not every designer of plugins has the same level of expertise as some people in their field. To help you pick an excellent countdown plugin, we put together a little list of the five best options.
Of course, the word best is subjective. We are looking at things like ease of installation, customization of the way the countdown seems, and other features offered.
Hopefully, we can help you find the perfect countdown plugin.
Two Types of Timers
When it comes to timmers for your WordPress, there are two main types they can fall into. First, you have your standard countdown timers. These are also called static or fixed countdowns. They are typically used for counting down to an event like a product launch or a new website.
The other type of timer for WordPress is the evergreen timer. These are also called dynamic countdown timers. They are specific to each user. The evergreen timer begins when a person gets onto your WordPress page. Typically, they would have a certain amount of time to utilize a special offer when they first arrived at your site.
The Top Five Countdown Plug-ins
OptinMonster
One of the best timer plugins for WordPress is OptinMonster. Some may call it the best. It is essentially a pop-up that serves as a lead generator. With this tool, you can help make people who may have previously abandoned items on your site become actual customers.
One of the great things about this option is that it allows you to create static and evergreen counters. You can also make as many as you desire and develop different timers for various pages on your WordPress site.
Although using a floating countdown timer on your page is considered the best, there are multiple options for how you display it. For example, the aforementioned floating timer would be near the top or bottom of your page. This allows for the most visibility for customers.
These timers can also be personalized based on the location of the user. This makes it super easy to target sales based on local needs.
This plugin comes highly recommended by many, and it's also easy to set up, which is essential for busy online business owners.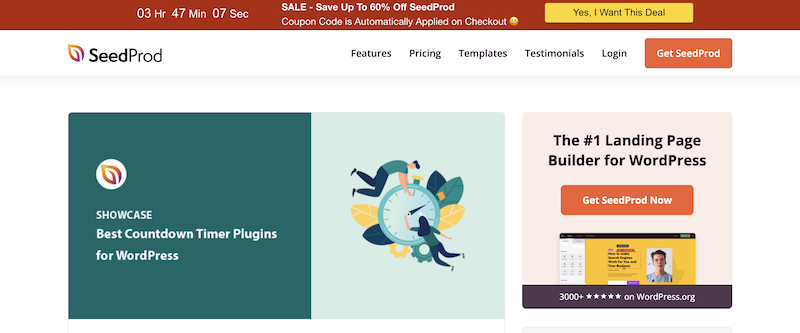 SeedProd
If you're looking for a countdown to announce an impending website release, this is a great one for you. This option allows WordPress users to set up a landing page and put your site into either coming soon or maintenance mode. This option uses a traditional countdown that works the same for everyone.
People love SeedProd because you can set your site to launch as soon as the timer is up. This is an excellent effect.
Countdown Timer Ultimate
You should consider this another option if you want to create a regular countdown timer for your site. However, this does not show evergreen timers, so everyone sees the same timer.
Not only can you make as many countdowns as you desire, but you can also alter the way they look on your site. Many people will love this option for this reason. There is both a free and pro version of this plugin.
Countdown Builder
This is a simple option, but it offers a great deal. It brings to the table many different styles to choose from. Some of these are circles, flip clocks, and also coming soon pages. People will also like this option because it embeds your timer in a post or page. This is done using the WordPress Block editor.
This plugin also allows you to change details about your timer. For example, you can alter the font, the labels, and the animation style. This can be done with the built-in editor, which means CSS is not needed for this purpose.
The pro version of this plugin allows you to add an email sign-up, schedule timers, and show or hide timers on intelligent devices.
Evergreen Countdown
This plugin does what the name suggests. It allows WordPress users to create evergreen countdowns. However, you can also use it to develop standard timers. Of course, evergreen countdowns take a tiny bit more work to set up, but this is still an easy plugin to use.
These are primarily evergreen timers; they can be used for just about every purpose. Overall, the design of the timer is straightforward. It's black numbers on a white screen. However, the pro version allows you to add colors. Also, the pro version will enable you to show available spots for seats or tickets. This works well for things like webinars.
Wrapping it Up
The use of countdowns for a WordPress site is a great thing. It allows you to generate excitement for the launch of something like a site or a product and enables you to help people keep track of significant events related to your WordPress site.
These were only a few of the best options for countdown plugins for WordPress. Many more out there do different things, but these were some of the best 5. They represent both typical and evergreen and simple and just a little more complex.