When starting a new website, one thing to consider is finding a good WordPress Maintenance company. It is also necessary to find one with telephone support because if something goes wrong with your online store, you will want to speak to someone as soon as possible for increased peace of mind that will fix your problem as quickly as possible. Three of the leading WordPress maintenance companies that offer telephone support are WP Buffs, FixRunner, and GOWP. This article will review and compare all three to help WordPress site owners make the right choice regarding this necessary component of having a website.
WP Buffs – The Market Leader!
One of the most well-known options for WordPress website management and maintenance that offer telephone support is WP Buffs. WP Buffs is a 24/7 service that will be there when you need them. They label themselves severe website owners, white-label site management for agencies, and freelancers. Their service is compatible with all the major plugins and page builders such as Divi, Elementor, and WP Smush.
People choose WP Buffs as their speed optimization; they have 24/7 website edits, advanced website support, core file and database backups, and mobile and browser optimization. The great thing about these services is that WP Buffs is not simply there when something goes wrong with your site, but they offer all types of help and website development.
WP Buffs Pricing
WP Buffs has several different options when it comes to packages and pricing. One of the basic plans is to maintain and include weekly reports, emergency support, 24/7 uptime monitoring, and Google Analytics integration. You can get this option at $67 per month when paid every month. If you pay yearly, the price goes down to $56 per month. The next lowest price option is called Protect. It includes all maintenance services, but it adds 24/7 website edits, security optimization, twice daily cloud backups, and the iThemes Security Pro Premium plugin. This one is $197 per month when paid monthly; it goes down to $164 per month when paid yearly.
FixRunner – The Runner Up
Another fantastic option for WordPress support that offers help over the telephone is FixRunner. They refer to themselves as your WordPress support team, which means they are always there to help you. They are great because you can utilize their service for a one-time fix or sign up for a subscription.
Some of the most important features they offer are personal WordPress support, secure updates, speed optimization, uptime monitoring, cloud backups, and 24/7 security. They also provide site upgrades, malware removal, and custom development. FixRunner also makes it easy to reach them by phone and chat on their website.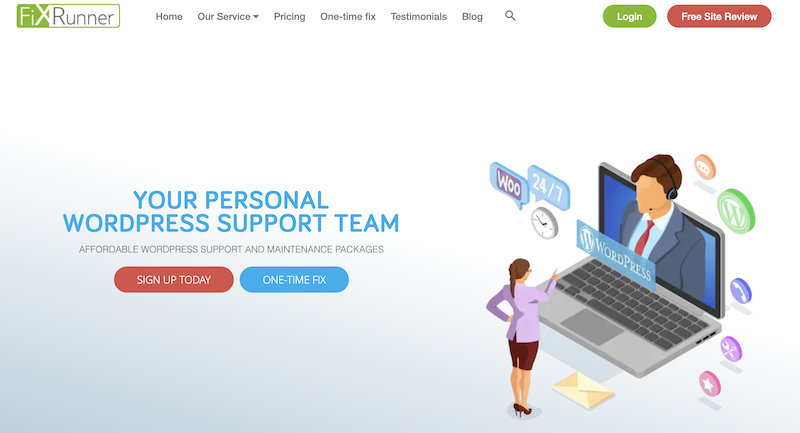 FixRunner Pricing!
In terms of pricing, you can get the one-time fix for $49. This gives you complete work for 30 minutes to fix your issue. They make this process super simple; you tell them what's going on, they will troubleshoot, and hopefully, your problem is resolved within half an hour. They allow you to begin this process by entering your information into a text box, and then they handle the rest. This option is ideal if you do not regularly need support, but perhaps you had a particular issue that needed to be resolved by a professional.
However, if you want to ensure that your site is always maintained and protected, a membership option is the way to go for you. FixRunner has three different options for membership. The first is the premium, which costs $59 per month. You get 90 minutes of support time and all the other essential services with this one. Then, there is the rocket plan. The rocket plan is $89 per month and includes 2 hours of support time and adds support for online shops, faster response times, and on-page SEO Optimization. Lastly, there is the advance membership. This one costs $149 per month and gives you 4 hours of support time. It is essential to point out that this is the only membership level with phone support. There is also a 30-day satisfaction guarantee.
GOWP
Another excellent option for a WordPress user looking for a support company that offers phone support is G0WP. GoWP mainly works with agencies, but their services are perfect for any WordPress site that needs to be maintained. With GoWP, you can quickly expand your team, outsource your services, and get training to preserve your site or agency better.
If your need GoWP for website maintenance for your WordPress site, the cost is $29 per site per month. With this plan, you get visual validator WordPress updates, 90 days of off-site backups, daily security scans, dashboard maintenance, and many other valuable services. They also have packages for content edits, and landing page builds. These were a bit more expensive.
WordPress Maintenance Companies With Telephone Support – Conclusion
In conclusion, these three options for WordPress maintenance offer phone support to their customers. This is important because you never know when your site could crash, and it is essential to reach someone right away. The last thing any business owner would want is to have their online store not bring in any money.